Staff
Jonathan and Sharon Penz – with their boys Merrick and Micah, have a significant history with Kako.
Sharon joined the staff team in 2009 and enjoyed getting along side the people of area and showing them God's love.
Jonathan, who was appointed the KRC CEO in 2014, first arrived at Kako in 1978 with his parents Dave & Janet Penz. Accepted as a local, he has long joined the efforts to pioneer and maintain the Kako vision and now seeks to build into the ministry's future. He oversees the staff and day to day operations of the ministry. Jonathan is Kako's chief pilot, a musician, a diesel mechanic by trade and Alumni of Moody Bible Institute.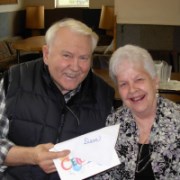 Vera Penz – married Kako founder Dave Penz in 1988. She has been a missionary in Alaska since 1954. Vera served as Kako's bookkeeper and office manager until retiring in 2017. She remains in the role as Ambassador for Kako and resides in Warm Beach, WA.   Dave Penz developed Leukemia and passed away in 2014.
Jim and Martha Buckingham – Jim is Kako's Kid's Camp Director. Jim and Martha live in Palmer Alaska with their four children: Joshua, Paul, Mary and John.   They came on full time staff with Kako Retreat Center in the Fall of 2020 and travel to Kako every couple of months to assist with maintenance, upkeep, repair and ministry.   Jim is a retired Army engineer, an accomplished pilot, and has extensive experience in Alaska village missions Gospel outreach.
George and Eunice Landlord – with Kevin, Melanie, Isaiah and baby David, are missionaries in the village of Marshall.  George grew up and lived in Mountain Village  before the Lord brought their family to Kako for a period of time. George is an evangelist and Bible teacher, involved with the local Marshall church and men's group.
Joshua & Alice Mathlaw – Seasonal off-site Staff for Counseling.  Joshua and Alice have a wonderful heart for bringing the love and grace of God through the medium of counseling.  Following obtaining a master's degree in school guidance counseling in 2017, Joshua currently works in the Y-K delta school system, while Alice continues her work in grief counseling.