In memory of Kyle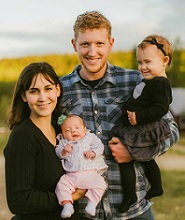 Kyle Steven's came to Kako as a camp councilor in 2006 and stayed involved nearly every summer until moving to Kako full time in 2016. Kyle had a way of making everyone feel like his best friend! As kids camp director he was dearly loved by the campers. Kyle lived at Kako with his wife Ella and their two beautiful daughters Kate and Loren.
On October 16, 2017 Kyle was flying alone in his Cessna 205 from Kako to Bethel when he crashed after encountering a fierce hail storm and tragically died. The plane wreck was found in the Yukon River the next day and his body was recovered soon after.
Kyle is greatly missed! All who knew Kyle are deeply saddened by his death, and trusting God to bring comfort to his loved ones. Ella, with her children Kate and Loren, moved to California to be near family. Baby Loren sadly passed away in 2018 due to heart complications.
The following links provide more details and tributes to Kyle's life.
Searchers recover Kyle's body
Plane crash under investigation
Kathryn's Report collection of information on the crash
MATA mourns for Kyle
https://drive.google.com/file/d/1eJTLss1THTyMNDWY9dGi2dgXpJkz444A/view?usp=drive_web